Post your sale directly to the app used by yard sale shoppers! Listing on Yard Sale Treasure Map will advertise your sale to the large community of hobbyist and professional garage sale hunters who rely on this app each week. Posting is free and easy.
If you are posting a neighborhood or community sale with lots of participating addresses you will want to use the Community Sale spreadsheet tool instead.
Post in App
Posts with photos is supported in the iOS app with Android support coming by the end of April. Since photos are excessively important in driving buyers to your sale Android users are recommended to use the above form with photos until the app form is updated this April.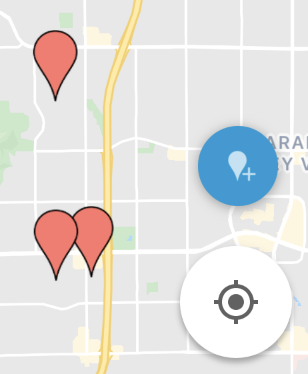 Open the iOS app
Allow app access to your location when prompted. This will save you time, but you can also search or zoom into your area.
Select the blue add button (see image) and then select the Post a Sale button
Alternatively, use the top map menu button and select Post a Sale
Complete the form
Validate your email address by selecting the link in the email you receive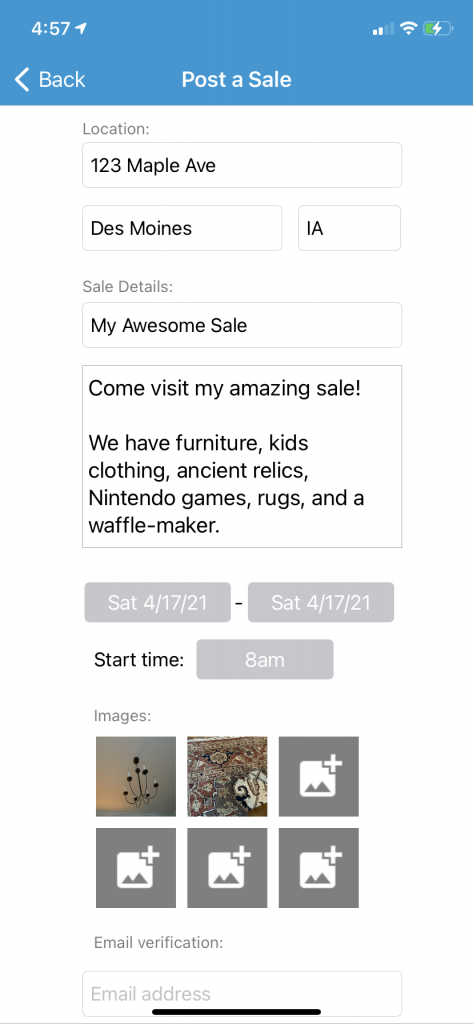 Tip: App users perform keyword searches in the app to find specific items. Completing the subscription field will ensure more app users find your sale!
Once you select Submit you will receive a email verification link from info@yardsaletreasuremap.com. Select the link to activate your listing.
You cannot edit your sale listing (editing will be allowed via the website soon). In the app, select your sale and use the menu to delete the listing. You can create a new listing.
Editing Your Listing
You can delete your listing or edit the details and photos of your listing using the link in the email you receive from info@yardsaletreasuremap.com.
Photos can be rotated if necessary. The featured image (the first image displayed in the your listing's image carousel) can be chosen by selecting the star button for that image. There can be only one featured image; the ordering of other images is not guaranteed.