As of February 2021 Craigslist has formally ended their license agreement with Yard Sale Treasure Map. This means the app can no longer automatically populate with Craigslist garage sale listings and the app will need to pivot to exist in a reality without Craigslist.
This decision from Craigslist came as a surprise considering how this app continues to make their own listings easier for buyers to access. I was not given a reason and I do not have enough information to even speculate. Throughout the 8 years that Yard Sale Treasure Map has operated under a license agreement Craigslist has always been quiet and distant. They did recently launch their own app; maybe this is related. Craigslist has denied my appeal for a new license agreement and there is nothing more that I can do. If you feel inclined, Craigslist has a contact form where they accept suggestions and feedback.
This app will continue to be a tool to help you plan and organize your yard sale adventure and I welcome your feedback to help with what comes next. As you'll read below, your suggestions have been essential to making this app what it is today.
Your own pace
In general I can say that nearly everyone underestimates Yard Sale Treasure Map at first glance. This is by design– the app is intended to be simple and approachable, yet with increasing layers of complexity that allow you to discover advanced features at your own pace when you are ready. To the outside observer, it's just dots on a map… but you and I understand that there is so much more to this app and to yard sale culture in general.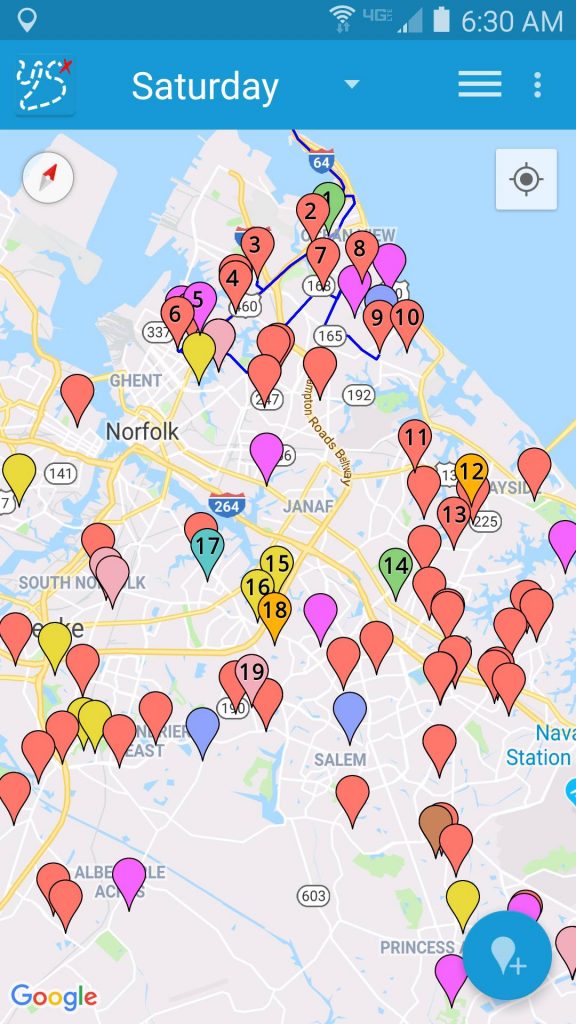 One of my favorite real-life examples is this app screenshot posted by Quest Collectibles a few years back. This business owner team regularly plans and optimizes a route to visit 15+ sales at a time to stock items for their store… incredible!
Various advanced features are employed here:
Keyword colors – markers automatically change color when specific keywords are matched in the sale details
Starred sales – 19 sales to visit were added to a route
Route ordering – the route was manually put into a rough ordering (drag/drop via the My Route menu)
Route Optimization – the app found an optimal path to visit the first 8 sales. It is likely that this user re-optimized the route in-flight to find paths to the later sales.
Shortly after this screenshot was taken the app was updated to support route lines and optimization for up to 24 sales; a map like this today would include blue lines connecting all of the numbered markers. Can you imagine attempting to visit 19 sales in a row without route optimization?
Making the app work for YOU
Before figuring out what comes next it's helpful to revisit how we got to this point to begin with.
This app launched with a few simple features aiming to:
Save people time searching for nearby sale listings
Save people time and gas money getting to the sales
Originally this was accomplished by gathering sales posted on Craigslist, searching each listing for text that looked like an address (this was before Craigslist had map features), and plotting the sales on a map. Route creation, optimization, and navigation features were added and buyers found the app useful.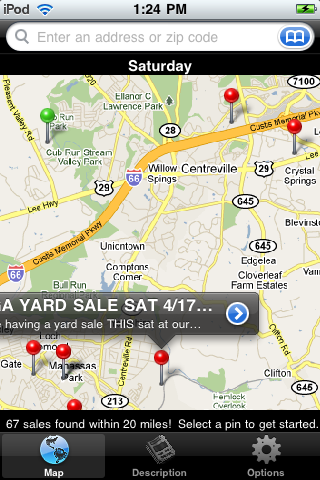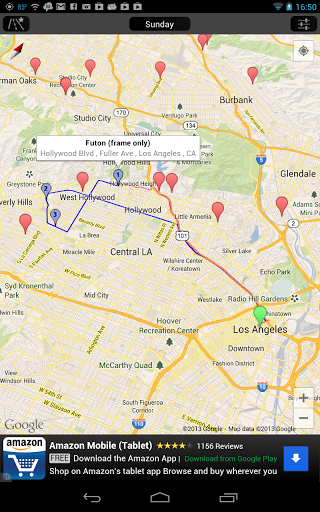 Over the years since this first app, most of the features I have added have come from feedback from users like you. Here is a sampling of some of the higher-profile features that came from user feedback (the full list is much longer):
Text searching
Search radius options (I don't see enough sales! / I see too many sales!)
Star ratings for sales
Alert other users when sale is canceled
Next Steps
Losing Craigslist sale content will undeniably change the way many folks hunt for sales. In the long term disruptions like this can breed helpful innovation… I want to hear your thoughts on how this app can be useful in a Craigslist-deprived environment.
For now I have adjusted the app and website to allow users to easily add addresses for sales they are aware of. Ideally app users can spend a few minutes adding sale addresses from the newspapers and websites that sellers use in your area. Hopefully other users do the same, and we can work together to create the most complete weekly yard sale map possible. Last year, even with a raging pandemic, the app had roughly half a million unique users across the United States and Canada. If each weekly user adds a single sale to the map then there would be twice as much sale content as before. I recognize that the sale detail content will be deficit in extensive text and photos and I do not have a quick answer here.
I plan on letting the dust settle for a few weeks before attempting any drastic changes to the app. I want to leave time for users like you to think about what changes, if any, would make this app continue to be useful in the future. If anyone out there has ideas, I am listening!
In this new reality where the app cannot auto-populate data from Craigslist (or Facebook or anywhere else), how can I adjust the app to make it continue to be useful to you? What would motivate you to contribute addresses to the map? Let me know in the comments below or send me a message on Facebook.
Update
Thanks everyone for your feedback! I have outlined the next steps in this blog post.