Yard sale season was a bit delayed this year, but with the relaxing of regional restrictions the sales are finally happening! Over the past few weeks the number of sales has been gradually increasing; a trend that will likely continue to slowly unfold in the coming weeks. This past weekend, mid-May 2020, has been the first weekend this year that feels almost normal in terms of sale postings; at least in certain localities.
It is interesting to watch yard sale season "switch on" around the country. As such, I have put together a national yard sale heat map to visualize where the sales are happening across the US and Canada. As currently configured, areas with a few postings will show up blue and areas with lots of sales are shown as red hot. I will continue to tweak the look and feel of this heat map over the coming weeks, but I plan to post updated heat map images each week showing Saturday sale activity.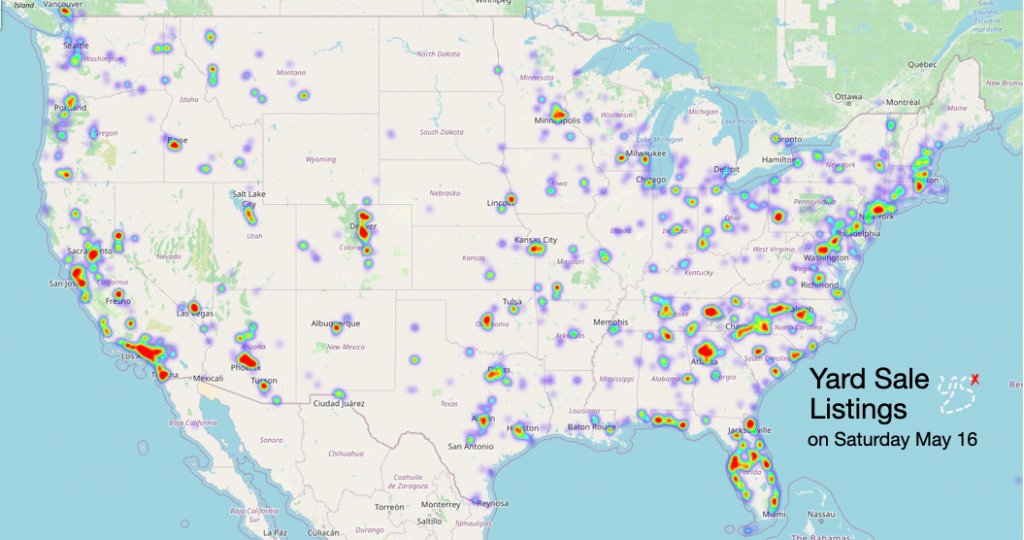 These are static images — to see the actual sale listings on a zoomable map download the Yard Sale Treasure Map app for iOS and Android where you can instantly start your treasure hunt!