Now's the time of the year where I ask everyone to let me know which features work, which do not work so well, and what new feature you would like to see next yard sale season.  Let me know how things are going!
At the least I am hoping to continue to improve the address alerts to let folks know when an address may be suspect.  Many addresses in craigslist ads are either incomplete or not shown correctly on the map, and YSTM does a lot of work behind the scenes to fix this, and then alert you when YSTM sees something wrong, but can't exactly correct the problem.
What other features are you looking for in a yard sale finding tool?  Let me know!
Wini
Where is "Old Site"? The form is still there, but there's no map or pins or anything. I use this …
Paul
Hello, I tap the gear, shows all grayed out. Can't change day or miles on iphone. Same problem with fatherinlaw's iphone. …
Dee
Ok. I didn't like that it changed overnight with no notice to require a subscription. Nevertheless I am willing to …
Joe
Garage sale app is not working it drops the pins but when you click on the pins it comes up …
Nikki
Not only a great app, but great service as well. I posted a comment on here about having issues with …
Charles Hess
Please allow this application to work with iOS 8.0.2 on iPhone 5s soon. The star feature does not work at …
admin
Hi Wini - are you still having a problem accessing the site? You should be able to hit the …
Wini
Please leave the old map on Yardsaletreasuremap! I don;'t like to plan on my Iphone because it is so small, …
admin
Hi, the menu appears to not work correctly in iOS 8. You can still change days, but the title …
Uli Smith
Used to love this app, however, it is not working as it used to. I cannot change the …
David m.
Bought $1.99 subscription But it does not work. No zip code, no We'd.,Thur., Fri. No extras. I received confirmation …
admin
Thanks for letting me know. I will apply a fix for this immediately. As a work around you …
LC
I never have luck searching via zip code and a specific day (Wednesday vs. Saturday). I'm not sure if I'm …
Over the past two weeks I have been receiving reports from iPhone users on AT&Ts network that sales are not loading on their map.  I have begun investigating this problem and it appears that AT&T is blocking the communication path for some reason.  While I run this to ground, if you are experiencing this problem please comment below so that I can keep track of who is affected.
— EDIT —
This morning I submitted an update to Apple which I hope will fix this problem.  I don't know for certain, however, since the problem is so isolated that I can't test correctly.  It appears that SOME AT&T networks are modifying the sales response from the server WITHOUT showing any sort of network error.  Also this seems to only happen in places that are very busy with yard sales.  Basically, iOS + AT&T + busy yard sale area = risk of your app not working.
My thinking is that the sudden spike in server traffic is flagging something in a firewall somewhere.  I have also pushed the issue up to Apple to investigate.  Once you receive the new app update please let me know the status of the issue.
— EDIT —
09/11/14 – With the latest app update this issue appears to be resolved.  Please let me know if you are still having issues!
37 comments
- Latest by:
admin
Dave - really sorry about this problem. Had it confused with the AT&T problem, but it was not. …
Dave
Works during the week, but once Saturday comes it shuts down and says no sales....
Dana
Our app on the Iphone through Verizon is also not working. Bummer , as we love your app!
Sara
I purchases the subscription but it's not working!
Dave
The app works during the week but for the last 2 Saturdays it says no sales in my area
Lynsey
Hi! Just downloaded your app onto my iphone 5c and its not loading any garage sales in the area. …
Juli
It's not showing Saturday sales! It was earlier today and now it just stopped. Can you fix so that …
Joe
I have AT&T and still today 9-12-2014after updating the app it still says no sales found even from a 30 …
RitA
Mine is not working. It loads around 7am and then the next time I check it it says …
TV
So sad, yard sales have not worked for two weeks. I eve tried posting my yard sale, and …
admin
Lala - your phone is connecting to AT&T through a different path than your husbands. Unfortunately this can change …
Susan G
so sad my app no longer works. I have Att. I have been using this app every weekend …
Joe
This app is not working, was told to reinstall , after reinstall it wanted to charge me and then I …
Lala
My husband and I both have AT&T ( separate accounts). The app on his phone is working, mine is not. …
Zack
I have a iPhone 4S on AT&T and app has showed no data this week.
You may have noticed that the homepage no longer shows sales.  Or a map.  Or much else for that matter.  The good news is that Yard Sale Treasure Map has a license agreement in place with craigslist allowing me to display craigslist content in my apps for iOS and Android.  The bad news is that this license does not extend to websites.
And so we lay to rest the website into a place of eternal slumber and we will remember with joy the treasures found through its use.
Goodbye website.
— Edit —–
I wasn't quite expecting this response.  It's great to know how useful this site was to you all!
It did not completely occur to me to keep the site but remove the craigslist ads.  I will try to make that work and resurrect the site from the dead.  Thank you for your support.
85 comments
- Latest by:
admin
Hi Sharron - are you still having a problem accessing the site? You should be able to hit the …
Sharron
My version of your link is no longer working....and as I read through your comments I see you had to …
pam
Would not find any thing. On Saturdays but would find on on other days. Even on WiFi and cellular So I …
Justin
Please email me: JustKikz34@aol.com This app has stopped working on my phone but works fine on my ipad. The phone version …
admin
The transition was necessary to abide by the craigslist license terms.
Jen
Then why am I now being charged a yearly subscription fee?
Mike
After much searching I found Bing.com/maps will do many of the features I used on here. You have to manually …
Larry
You have apps for iOS and Android-how about getting an app for Windows phone?
Den
This app is not compatible with my android device. Wish it was as I used this web page all the …
Cheryl
So sad! This website has been a fantastic tool! I do not own a smartphone so this does …
khalid
Do you have an app for windows phones? Can you set one up?
Doug
Just found this website, Craigslist is lame...
mary
IS THERE A SOLUTION TO GET THE LISENCE TO BE ABLE TO MAP CRAIGS LIST SITES ON THE WEB SITE? …
Michael
This was the best website! :( Rest in Peace.
JoAnn
How will I ever get my community kick it event going without your map? Why do things that work go …
During the cold months of the year I have been hard at work improving the YSTM mobile apps for iOS and Android.  Both apps now have the ability to sync the sale route with other devices (iOS, Android, and the website) by simply signing in with a Google account.  Both apps also have a new keyword feature to automatically color matched sales to more easily find those "estate" or "neighborhood" sales each week.
Aside from these features, the Android app specifically required an extensive overhaul.  The big visual change is the new sliding menu, but underneath it all things will be more stable, efficient, and tablet friendly.  The next glaringly necessary feature for Android is a way to view sales in list format, like we have for iOS.  This will be the first feature I add during the next development cycle later this year.  Also recently added is Monday and Tuesday search.  Now you can efficiently yard sale all week long!
The iOS app will get one more update this season to fix bugs and add Monday and Tuesday support.
On the whole things seem to be working really well.  As always, I depend on your feedback so that I know when things are broken and what features you would most like to see.  Thanks again for your support!
2 comments
- Latest by:
Joanne
Just found your site and I LOVE it! What I would love to see is the option to simply print …
Justin
Hey there First, let me say I love your app, I use it every weekend! Second, I have a suggestion that may …
It was a rocky deployment that cost me half a star in my app rating, but the YSTM Android app updates are finally complete and I think it was worth it!
Updated the mapping engine (now with rotation and tilt gestures for 3d views)
Improved the location search feature
Improved map refreshing capability to load new sales when you scroll too far away from your home location
Added a new alerts feature to let you know when sale markers are incorrect and let other users know if you find a problem
Improved the look and feel of the map menu and the sale info page
App will now rotate orientation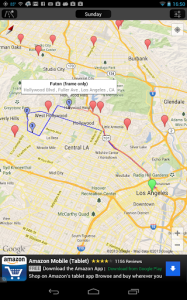 A small amount of users are still getting a "package signing" error when downloading from Google Play.  This is a Google problem that I am looking into and will hopefully be resolved the next time there is a Google software update.  On the whole app seems to be solid.
For the next major app improvements I plan on waiting until after yard sale season to release any updates.  If you are interested in getting these updates sooner shoot me an email.  I just need to add you to a google+ group and then you will receive Beta updates through Google Play.  These users will also have more influence on future features… nudge nudge.
The next step is to do these same things to the iOS app hopefully later this month.
2 comments
- Latest by:
Kial
app no longer works for Saturday. works for other days even when used on Saturday and choosing other days same for …
Mark
Any news on when well can expect Kijiji ads to show up in search in the app?
In January 2013 I began work to update EVERYTHING and I am finally almost finished!
The Yard Sale Mapper iOS app has been updated a number of times with new features and improved usability and stability, and is currently rated at 4.5 stars
The Yard Sale Treasure Map Android app has been updated with new features and improved usability, and is currently rated at 4.5 stars
The Community Sales tools have been upgraded to be completely redone and streamlined to let users distribute their own maps, webpages, directions, guides, etc
The website mapping engine has been upgraded to the new version of Google maps and other bugs have been fixed
The entire site has been sped up considerably
craigslist legal stuff is in a happy place
I am also nearly finished with a substantial Android app update that I have been working on and off since January.  I will add a new post describing the cool new features once I have this updated in the Play store in a week or two.
As always, continue to let me know when you find problems and don't forget to show your friends on sale day how much more efficient they could be if they used Yard Sale Treasure Map.
2 comments
- Latest by:
Anthony Chiappone
Columbus Day is on a Monday of course, as are many holidays that garage sales, thrift shops and flea markets …
Penny
Love the idea of this site. I have created a community sale. Because our subdivision lots are large …
I have finally finished the first phase of Add Sales Spreadsheet tool. This tool integrates directly with the main site to let users quickly add and manage lots of sales in a spreadsheet format, where previously users could only add one sale at a time (with zero management capabilities). This should be a serious step forward for folks who live places where craigslist isn't used extensively.
The second phase is to finish reworking this spreadsheet tool for folks who are looking to bring their community/neighborhood garage sales into the digital age. The spreadsheet page will look the same, but users will have access to a Google or Silverlight map specific to their sale. Additionally there is another tool that will automatically create the sale guide for distribution during the event. This is basically a rework of my previous community sale effort, with improved tools and a free price tag. I should have this available within two weeks so stayed tuned.
For now, you can access the spreadsheet tool in the "Add Sales" tab on the main site. Post comments to let me know what worked and what didn't! I will be making tweaks as appropriate.
12 comments
- Latest by:
Debbie H
I love the spreadsheet tool! We have a local yard sale group on Facebook where members can post area sales. …
Caroline A.
This is a fantastic feature! It's so much easier to add sales quickly without taking my hands from the keyboard …
Arwen
Thank you for this tool. I love it and have used it for years. I just used the spreadsheet tool …
Sharron
I love your application and have used it for a few years with great success. I use it with …
Bob
Oh, yes. I almost forgot. Is there a way to "upload" data to the spreadsheet? then I could do all my …
Bob
I love that it is free. I struggle with the delete function. I wish someone had told me that every …
admin
Sharon - I'm sorry you're having problems! Using Silverlight was a mistake. i am almost done updating the …
Sharon
I REALLY REALLY REALLY wish you would enable adding sales on my android phone!!!!! I just finished an hour …
Anita Hain
I like the idea behind this site, but after adding several sales using the spreadsheet tool, "syncing" and sending to …
Mike
Wahoo working much better. I added 15 sales and hit the sync button worked like a charm. When I add a …
admin
Thanks for the feedback. Many of your problems are probably because I had a flag set to limit users …
Mike
Thank you for responding to my request for this tool. First I had to download Silver seemed odd but I …
It's been almost three years since we posted the first version of "Yard Sale Mapper" iPhone app on the app store. Since then there have been a few features added, but this spring we have given the app a complete overhaul and added lots of handy features!
Users can now flag sales of interest, perform text searches, change the search radius, and browse sales in list format (as well as by map location as before). In addition, this app now also runs on iPad, giving you an enhanced experience. This app is available now free on the app store. Check it out and let me know what you think!
28 comments
- Latest by:
Juli
Thanks for the changes, however while the app worked REALLY WELL for Saturday, it's still giving me nothing for Sunday …
admin
You have prompted me to take another look at the way I do something and I found an inefficiency. …
Juli
I have enjoyed using this app for the last couple of months but I'm slowly getting frustrated with it in …
Shannon
YAAAYYY!!! :) Thank you SO much!! I look so forward to the entire route optimization!! Can't …
admin
Yes and yes! I am planning on rolling out these changes by early next year for both iOS and …
Shannon
Will there ever be a way to optimize your entire route? Also will we ever be able to synch …
Adam
If it wasn't broke, why fix it? Running on iPhone 5 and new iPad; it's full of bugs. The screen …
Brittany
Yes that fixed it! Thank you!!
admin
Brittany - if I can track this problem down I will get a fix out ASAP. Please try uninstalling …
Brittany
The new update 6.0 for iOS is crashing on me. It will not open. Please fix!
Mike
How about adding Kijjiji (or local newspapers) as one of the sites the app can search? Very few if any …
admin
Hit the page curl at the bottom right corner of the map to get to the options. Putting the …
Ina
How do I change the location of where I want to search?!!!!!!
admin
Hi Julia, I can't be sure without understanding your exact situation, but my guess is that you live a city …
Julia
Hi, when I try to enter an address from a newspaper, it tells me that an error occurred and that …
It's been a while since I've updated the blog, which someone just pointed out to me. In January 2011 I finally finished my original goal of linking the website to the mobile apps. Now yard salers can use the feature-rich web site for their planning, then send their planned route to their phone and use the on-the-go app features for Android and iPhone.
Also, yard salers are understanding the power of the "Add Sales" tab and how they can plot sales from other sources into YSTM to make it easier to plan.
Based on your feedback, the next few updates will be:
Fixing the delete sale feature in the itinerary
Fixing the update sale feature so that any sale can be updated by anyone
Revamping the add sales feature to let users put in neighborhood addresses and make corrections as necessary
Taking a fresh look at making the craigslist addresses more accurate
Thanks again for all of the feedback!
12 comments
- Latest by:
Deb
I like to plan my weekend adventures in advance. It would be great if you had a calendar option …
Marlene
Is there a problem with the site today. :)
admin
Great idea! I'll make the change this week to automatically add the corrected sale to the itinerary.
Mark
This site is genius. I can't figure out how to add 'other ads' sales to the search results once I've …
admin
1. Unfortunately, whether I do the geocoding on the server or on the Android itself, the coordinates will still …
Phil
I love the app on my Android, but there are a couple of minor bugs - Since you send the output …
Marcus Jenkins
After creating a yard sale list, I discover that maybe the 8th stop, closed at noon, and the first stop …
JenV
I absolutely LOVE this site and use it almost every week for my yard sale planning. There's one thing …
admin
On the itinerary window there is a "Clear" button at the bottom that will de-select all sales in your route. …
teresa
I would love a re-set feature. Right now, I have to manually delete a previous route, one garage sale …
RENATE PARKS
Just wanted to let you know I LOOOOOVE your site! It saves me sooooo much time! I used to copy …
Maria
I added about 6 sales then noticed I didn't have my starting address in place. I put that in …